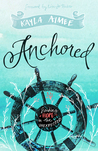 Anchored: Finding Hope in the Unexpected
by
Kayla Aimee
My rating:
4 of 5 stars
So I'm not a big fan of reading about babies or births or anything that hurts my heart about not having a child of my own, but for some reason I was drawn to this book... & so glad I did.
This is the story of Kayla Aimee & the birth of her daughter Scarlette as she came into the world earlier then she should have. The things that precious baby went through & the story of her life & the way that Kayla survived it all, with her humor, with her heart, with her family, with her faith & hope in God, its such a good story.
Its written in such a grabbing way. I didn't want to stop reading. One second, you are aching for this little tiny baby that is so small she can fit in your hand & the next, you are laughing at the memories that Kayla shares with you reflecting on her life & memories. It's such a mix of emotions - all making up a fantastic read.
I have since found out Kayla Aimee is a blogger & I just love reading her writing even more when I can. She's got such a joy that shines through her words. I'm going to be adding her to my list of people that I know that we'd be best friends if we lived near one another. :)
View all my reviews