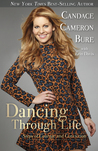 Dancing Through Life: Steps of Courage and Conviction
by
Candace Cameron Bure
My rating:
5 of 5 stars
OK... everyone that knows me I love 2 things in this life. Jesus & Dancing with the Stars.
You think I'm joking.
It's true.
So you have to know that this book was just made for me to devour.
I so loved when Candace Cameron Bure was on DWTS in Season 18 & the faith she showed - getting Jesus name out for the whole word to hear. She carried herself so well during that season & loved she made it to the finals.
This book is just a glimpse of her experience with the show, what happens behind the scenes & little glimpses at what we didn't see. This even made me like Mark even more as we got to see deeper into how he was the partner leading Candace on this journey.
But what makes this book so cool, as every dance goes on, she finds a way to connect it with a growing spiritual thought for us all to learn from in areas of our own lives. I loved the blend of the worlds & the teachings from this.
I smiled throughout the book at the scripture used & how it all applied so perfectly to the experience she went through on the dance floor... & even had tears come to my eyes reading parts. The chapter where Candace messed up & Mark was talking her through the dance & encouraging all the way? ... my favorite chapter of the book....
If you love Candace - if you love DWTS - you can't pass up this book!
View all my reviews